It's been a year to remember (or possibly forget), but that doesn't mean we can't redeem it with some outstanding gifts this holiday season. We pulled together some of our favorite tools and gear this year to give you some options for the best tool gifts for Christmas 2022!
Best Christmas Gear and Tool Gifts for Dad and Mom
UAG Plyo for MagSafe iPhone
We've used UAG phone cases for years and they take what our constant travel and photo/video environments can throw at them. If you're on the hunt for an iPhone case that's compatible with the MagSafe feature on the latest editions, check out the UAG Plyo for MagSafe iPhones. Available in Smoke or Ice, they offer the protection you need with a slimmer profile while showing off the color of your phone.
Pendleton 1910 Rye Whisky
Pendleton Whisky made the cut in our Father's Day gift guide earlier this year, and now we're recommending their 12-year aged 1910 rye whisky. As you sip, look for hints of tobacco, charred oak, and butterscotch. As the classic rye kick comes in, enjoy the back end as maple and sweet cherry offer a smooth finish. Packaged in a very attractive bottle, sip it slowly either neat or on the rocks.
Klean Kanteen 25-Ounce TKPro
The TKPro from Klean Kanteen is perfect for the jobsite or your weekend adventures all year long. Thanks to its double-wall insulated design, the 25-ounce TKPro can keep drinks hot for up to 28 hours or cold for up to 90 hours. There's a 10.3-ounce cup integrated on the top and you just need to loosen the cap and pour—there's no need to take it completely off. Grab this one in Brushed (silver), Black, Fairway (green), or Tofu (cream) colors. The TKPro is also available in 16 and 32-ounce versions.
Twist & KLIIN Starter Set
Storing cleaning supplies has never been easier thanks to the Twist & Kliin system. Cleaning solutions come in small, concentrated capsules that you simply twist onto a spray bottle to empty. Add water to dilute the cleaner to usable strength and you're ready to go. By reusing the bottle, the small pod greatly reduces your overall waste. The starter set includes three 32-ounce spray bottles, 2 all-purpose pods, 2 windows and mirrors pods, 2 bathroom pods, a 5-sheet roll of white compostable and reusable towels, and three docorative compostable and reusable towels.
Way back in the day, we were able to review the original Gerber Center-Drive—an innovative multi-tool that offsets the multi-bit driver so that you can turn screws from the central axis of the tool. Now it's even better thanks to a customizable program direct through Gerber. You can select colors, engraving, different tool configurations, and even which sheath you want. The website is easy to use and, frankly, fun to build ideas on. Once you're satisfied, save your work, place your order and Gerber will take it from there. As best tool gifts for Christmas go, this one's personal!
Ryobi 6-Piece Combo Kit (PCL1600K2)
If you're a homeowner or DIYer, Ryobi has a fantastic deal for you! The PCL1600K2 combo kit includes the tools you need for most home repairs and projects. There's a drill, impact driver, circular saw, reciprocating saw, oscillating multi-tool, and LED light. The kit also comes with a 1.5Ah battery, 4.0Ah battery, charger, and a soft bag to store everything in. All that for just $199!
Xtend+Climb 10.5-Foot Aluminum Telescoping Ladder
By now, you've probably seen at least one telescoping ladder and you're like we were at first, you might be a bit skeptical. Before you discount them altogether, take a closer look at what Xtend+Climb has to offer. Designed for low to medium-height applications, this model extends up to 10.5 feet and supports up to 250 lbs. Don't just take their word for it—it's a certified Type 1 ladder. Collapsing down to just 30 inches in height, it's perfect for when space is at a premium.
Need something more? Check out Xtend+Climb's lineup of contractor ladders!
Generac entered the lithium-ion portable power station game this year and they didn't just slap their name on someone else's unit and call it a day. Available in 1086Wh and 2106Wh capacities, either model delivers up to 1600 watts of power (13.3 amps at 120V)—more than most power stations in its class. 120V plugs along with USB-A and USB-C ports offer charging, plus there's a wireless charging pad on the top. It's both solar and vehicle charging ready in addition to using a standard 120V wall outlet. It offers higher output and better features than its competitors, but without jumping up in price.
Yamaha DTX6 Series Electronic Drums
Sometimes it's fun to let off some steam—not to mention your creativity—after a hard day's work. We think the Yamaha DTX6 Series electronic drums provide a great way to do just that. Positioned just above the entry-level DTX402 series, the DTX6 drums give you a much more realistic feel while offering the much-improved DTX-PRO sound engine. Upgrade to the DTX6K2-X model and you get the KP90 kick tower which has a larger 9-inch pad—large enough for a double bass pedal. The DTX6K3-X gets you all XP70 pads with TCS heads. The system includes everything you need to learn, play, record, and even edit your drum tracks. The best part? With these electronic drums, you can don a pair of headphones and rock out without disturbing the rest of the family!
Best Christmas Tool Gifts for Woodworkers and Carpenters
Elmer's ProBond Wood Filler
If you're into woodworking, you need wood filler. Elmer's ProBond Wood Filler has ceramic microspheres in the formula that help it resist shrinking and cracking. It contains no solvents and once cured, is perfectly content to be sanded and easily takes paint or stain. It's available in multiple container sizes, several color options, and for interior or exterior applications.
Bessey 4-Piece Trigger Clamp Set
Bessey makes some of our favorite clamps and there's a high-value set available this year. Featuring Bessey's super-comfortable handles and one-hand release, the set includes two 6-inch clamps and two 12-inch clamps. For less than $35, this is one of our best tool gifts for Christmas that you might want to get two of!
Woodworkers tend to get themselves into some tight situations where standard pistol grip drills won't fit. Ridgid's 18V SubCompact Right Angle Drill is the answer. In addition to a paddle trigger that offers multiple grip locations, it's easy to finesse with small fasteners and bits. At the same time, the brushless motor is capable of 500 RPM in low, 1900 RPM in high, and up to 375 in-lbs of torque. It's a versatile tool that can get the job done well for woodworkers and is helpful in many trades.
Best Christmas Tool Gifts for Men and Women Contractors
In a torture test, we managed to cut through five sets of #5 rebar using a single Crescent NailSlicer blade… and that's just their standard framing blade. It's tough as hell if you happen to hit nails in your cutting yet smooth as butter on your standard nail-free cuts. How much more is it than Diablo? $5? $10? Nah, it's actually less expensive—so stop making excuses and give it a shot!
Truewerk B2 Quarter Zip
Truewerk has mastered the art of jobsite workwear that's functional and stylish enough for just about anything. Their B2 Quarter Zip is a lightweight top that's perfect for days that start out a little chilly or to layer with thicker outerwear on cold days. It's tough enough for construction work yet breathable and moveable enough for your morning run. If you're looking for something in between a long-sleeve tee and a sweatshirt, the B2 Quarter Zip is what you're after.
Dickies Duratech Renegade Demin Jeans
Looking for jeans that can stand up better than most? Take a look at the DuraTech Renegade Demin Jeans from Dickies. The heavyweight denim is twice as strong with reinforcement in the most vulnerable areas, a crotch gusset to avoid blowouts, and double knees. That doesn't mean they're uncomfortable, though. Dickies starts with a relaxed fit and uses their Flex design to ensure easy movement while a moisture-wicking finish draws sweat away from your skin to help keep you cool and comfortable.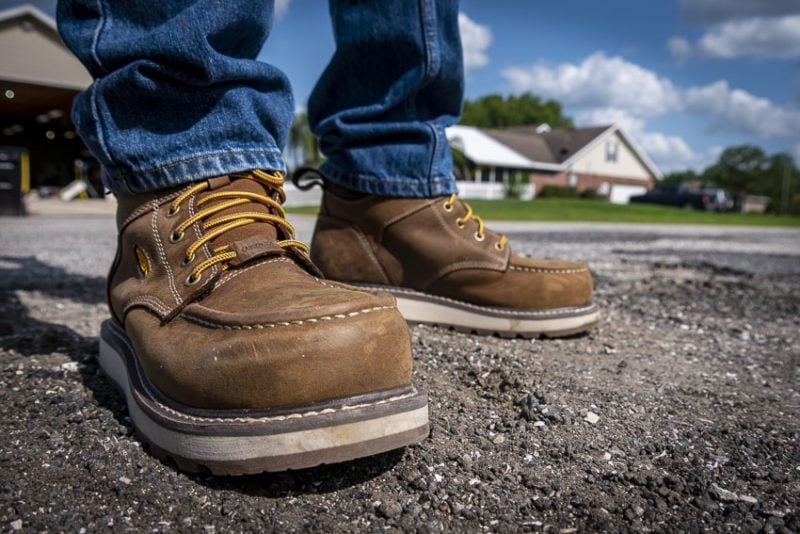 There's a reason we named KEEN's Cincinnati as our best work boots two years in a row. Its combination of a wedge sole with an aggressive tread and a crazy-comfortable midsole make it an outstanding choice in a wide variety of environments. As an added bonus, they look pretty dang good and they're available for both men and women! Plus, there's a new Chocolate Brown color for 2022. These might make for an unusual Christmas tool gift—but your loved one will love them!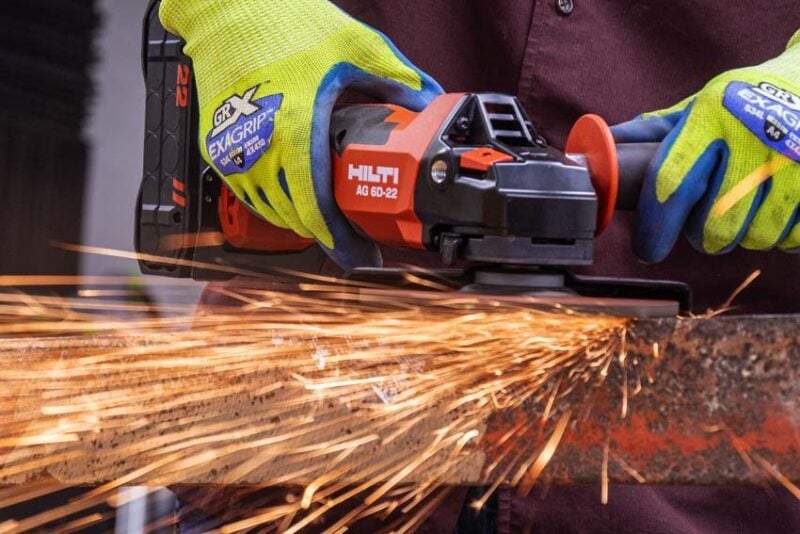 When it comes to angle grinders, do you prefer the convenience of a slide switch or the safety of a paddle switch? Thanks to Hilti, you can have both! Their Nuron 6-inch angle grinder features SensTech that can tell when your hand is on the grip—even if you're wearing gloves. Put your hand on the grip, turn the slide switch to the on position, and grind away knowing that if you lose your grip, the tool will shut itself off. Throw in 360° bind-up detection with outstanding performance, and you have one heck of an angle grinder!
Milwaukee M18 Fuel Gen 4 Hammer Drill and Impact Driver Combo Kit
Milwaukee delivered its 4th generation M18 Fuel hammer drill and impact driver this year, and the combo kit is a hot item this holiday season. The 2903 hammer drill gains more speed on the top end along with 200 in-lbs more torque and a 1,000 BPM high blow rate. Plus, it has an advanced kickback control system that helps prevent accidental stopping better than other systems.
The 2953 impact driver maintains its 2000 in-lbs rating for torque while picking up its top-end speed to 3900 RPM and gaining an extra 100 IPM. It's also slightly more compact than its predecessor.
Best Christmas Christmas Tool Gifts for Plumbers
Kobalt refreshed its high-value 24V brushless lineup moving into the second half of the year and the reciprocating saw is particularly attractive for plumbers (and anyone else) who want performance without a big price tag. This version picks up both speed and stroke length, hitting 3200 SPM and 1 1/4 inches. It also adds a speed selection switch so you can dial down the SPMs when you're cutting metal. All this comes at the same price as the previous version launched five years ago.
Milwaukee flipped the wet/dry vacuum world on its head with the introduction of a modular vacuum system alongside trade-focused Air-Tip accessories. The concept is brilliant: choose between corded, single-battery, or dual-battery vacuum heads and then add 6, 9, or 12-gallon canisters. Grab a standard or premium cart for it to roll on and add the accessories that make the most sense for you. The whole system is interchangeable and designed to be tougher than what you get from other brands. Combined with Milwaukee's deep line of plumbing tools, you'll have everything you need from diagnosis to cleanup.
The deeper we dive into Makita's 40V max XGT line of tools, the more we love it. Makita's XGT band saw features a deep-cut design that offers up to 5 inches of capacity. The saw's brushless motor feeds the blade at speeds up to 630 FPM and has a control dial to help you cut at slower speeds when necessary. This full-featured saw hits all of the major points we expect from a high-end band saw and is a true corded replacement that won't leave you disappointed.
Best Christmas Tool Gifts for Electricians
Weller 30-Watt Soldering Iron Kit
Weller has an affordable option when you need a precision soldering iron. Their 30-watt model features a slim pencil grip design and comes with easy-to-change conical, chisel, and screwdriver tips. Best of all, there's a 360° halo LED light surrounding the tip, ensuring you can see what you're working on no matter what conditions the job has you in.
In a long list of "why didn't we think of that?" products, Klein has introduced knee pad sleeves that are high on our list. Instead of using straps, they slide up over your leg and make for a far more comfortable experience, especially when you're wearing shorts. The knee pads come in two styles: lightweight and heavy-duty. They're also available in medium/large and large/extra large sizes. If the person on your shopping list likes things that make their life easier, this is definitely one of the best tool gifts you can give for Christmas this year!
Cutting EMT and conduit is easy with a one-hand reciprocating saw. If you're the type of electrician that wants high performance from your cutting tools without paying a crazy-high premium for them, Flex has the saw for you. Using a 24V battery for power, its brushless motor drives a 1-inch stroke length and 3,000 SPM stroke rate to make it one of the highest-performing models on the market. Plus, it's just $199 and that includes a battery and rapid charger, and you get a lifetime warranty if you register your purchase by 12/31/22.
Tool Gifts for Mechanics and Car Enthusiasts
Sunex Impact Socket Set 3646
Whether you're wrenching on cars for a paycheck or your free time, you know you should be using impact sockets with your impact wrenches. For your 3/8-inch impact wrench, Sunex has an affordable 16-piece set with a low-profile design and single-piece construction that can help you work in tight areas more easily. The set includes 1/4, 5/16, 3/8, 7/16, 1/2, 9/16, 5/8, and 3/4-inch sizes for SAE. Metric sizes include 6, 7, 8, 10, 12, 14, 17, and 19mm.
Chemical Guys Quick Load Clean, Protect, & Refresh Mobile Interior Detailing Kit
The folks at Chemical Guys seem to have a lot of fun. In addition to unusual products that come out around the holidays (like their microfiber robe), they also put together a ton of kits to give you an even better value. Shifting to the inside of your vehicle, consider the Quick Load, Clean, Protect, & Refresh Mobile Interior Detailing Kit (that's a mouthful!). It includes:
Lightning Fast Stain Extractor for Fabric
Streak Free Window Clean Glass Cleaner
Total Interior Cleaner & Protectant Black Cherry Scent
Silk Shine Vinyl, Rubber, Plastic, Satin Protectant Dressing
New Car Smell Air Freshener
Workhorse Professional Grade Microfiber Towel 3-Pack
Monster Fluff Plush Microfiber Applicator 2-Pack
Nice & Stiff Heavy Duty Carpet & Interior Brush
Quick Load Carrying Caddy and Storage Organizer
Gearwrench 31 Pc. Bolt Biter Socket Set with EVA Foam Tray (86525)
One of the big news items coming from Gearwrench is that you can now get some of your favorite tools pre-set in EVA foam trays and they're one of the best tool gifts you can get for mechanics this Christmas! Sets, such as the 31-Piece Bolt Biter Socket Extraction Set, fit easily into the drawers of your toolbox and make it instantly clear when there's something that hasn't been put back. Whether you're simply trying to be tidy or you're working as an aircraft mechanic and can't afford to leave a single piece behind, these sets add value, better organization, and peace of mind.
Best Christmas Tools Gifts for Lawn, Garden, and Outdoor Living
WhiteDuck Tuff Firewood Log Carrier
WhiteDuck makes some awesome canvas products and their Tuff Log Carriers make great gifts that won't break the bank. Available in Diamond, Rectangle, Tote, or Boat shapes and with multiple color options, the waxed heavy-duty canvas construction makes it easy to carry an armload of firewood from the wood pile to the fireplace and make fewer trips back and forth.
Not sure which one to go with? We recommend the Tote version. Thanks to reinforced corners and edges, you can expect years and years of service. Plus, it folds flat to make storage easier during the off-season and it has a front pocket to store additional items.
Moultrie Mobile Edge Cellular Trail Camera
Moultrie Mobile is solving several pain points with their Edge Cellular Trail Camera. Its starts with image quality—this camera is capable of shooting 33 MP stills and video up to 720P with sound, day or night, and even has an 80-foot range with its IR light. Don't worry about having to purchase an SD card separately, the camera has built-in storage and unlimited cloud storage. Thanks to automatic multi-network connectivity and an upgraded antenna, it can upload those images to the cloud without having to manually pull the data onto your computer.
If you're not a hunter, there are still plenty of ways to use the Moultrie Mobile Edge. It makes a great camera for keeping an eye on your jobsite, trailer, shop, and much more!
5.11 CFA Peacemaker Tomahawk
Perfect for the tactical-minded outdoor enthusiast on your shopping list, the 5.11 CFA Peacemaker Tomahawk is perfect to have in the field with you. Designed by Special Forces veteran Justin Gingrich, it's a full-tang design made from 1/4-inch thick SCM 435 steel with a 4-inch chopping edge on one end and a spike on the other.
The skeleton-style cutouts reduce the overall weight to just 28 ounces, giving you excellent swing speed while its 14-inch overall length is just as accurate as a hammer. Whether you're building out your go bag or upgrading your camping gear, it's a tremendously useful part of your arsenal and one of the best tool gifts for Christmas that outdoorsmen will love.
HART 20V Heated Blanket
There's nothing like sitting in front of a fire with your favorite blanket watching the snow from inside your house. But when Junior's soccer game forces you outside, it's a different story. HART has you covered—literally—thanks to their 20V heated blanket. Three settings let you set the amount of heat you need and the 2.0Ah battery that comes in the kit can run up to 6 hours. The shell is wind and rain-resistant and it comes with a portable power source that you can use to charge your devices while staying warm. Look for it at Walmart for $179.00.
Maven CM.1 Monocular
Maven makes outstanding optics and the CM.1 Monocular is a must-have part of your EDC loadout. It's an 8 x 32 configuration built using Maven's C-series, multi-coated ED glass and offers 88% light transmission to go with its 8x magnification. You get a clear, bright, high-contrast view of your subject with strong color accuracy. Plus, it's waterproof and fog-proof. From scanning for bait on the bay to watching for hogs on the ranch, quickly checking fencelines, or a multitude of other tasks, you'll never leave home without this Maven monocular.
Eddie Bauer Women's MicroTherm FreeFuse Stretch Down Hooded Jacket
Personally selected by my lovely bride, Rebecca Koehler, Eddie Bauer's Women's MicroTherm FreeFuse Stretch Down Jacket is a lightweight, breathable jacket with a DWR coating to repel water and an athletic fit. It also takes advantage of FreeFuse construction—a technique that uses a single sheet of fabric folded over and woven together to hold the down. Speaking of the down, Eddie Bauer uses 800 RDS down to provide insulation
It's a highly packable design as well, completely fitting into the left-hand pocket and making it easy to carry until you're ready to wear it on your next adventure.
Filson Ultralight Jacket
Need warmth without the weight? Filson has a jacket for you! Built with 1.5-ounce Cordura nylon and 60 grams of PrimaLoft Gold insulation, it's impossibly light for the warmth it provides. It's also ridiculously easy on storage space. Not only does the PrimaLoft Gold retain 98% of its insulating ability when wet, it also compresses down so much that the entire jacket stores inside its own pocket. Windproof and warm, yet breathable to keep you from overheating during activities, it's available in Surplus Green/Blaze, Olive Branch, Firepit Gray/Blue, and Black color schemes.
Green Machine entered the battery-powered lawn care market in 2022 with a nice balance of performance and price. Their 16-inch chainsaw kit is perfect for homeowners and property owners who want to have a saw on hand for seasonal tree care and post-storm cleanup. Its brushless motor gives it the muscle to deal with large tree diameters up to 30 inches and eliminates the gas engine headaches that often come with saws that don't get full-time use. Add in quieter operation, no emissions, and no gas to pour/spill, and you have a convenient chainsaw that's ready to work when you need it to.
Tecovas Goat Suede Puffer Vest
There are plenty of vests on the market, but chances are the folks you're shopping for don't have one like this. It starts with 6mm goat suede and adds insulation and a polyester liner. There's an interior pocket to complement the exterior ones and the vest comes together with antique brass hardware. Wearing it is like nothing else, with a soft, supple feel and quality construction across the board. Whether you're out for a night on the town back East or enjoying the wide open spaces out West, you'll look and feel good in the Tecovas Goat Suede Puffer Vest.
Some brands play games with their pressure washer specifications. Greenworks doesn't. They have a legit 3,000 PSI electric pressure washer. That's right—3,000 PSI. It uses a brushless motor to get increased performance and pull it into the pressure level of mid-range gas units. Whether you're spring cleaning the screens or attaching a surface cleaner to hit the driveway, Greenworks has the most capable electric pressure washer currently available. And don't worry about whether they're using inflated numbers. All Greenworks pressure washers are PWMA-certified.
When EGO launched the Select Cut XP self-propelled lawn mower, they combined their best cut quality technology with their highest-performing brushless motor. Using a stacked blade system, Select Cut starts with a higher initial cut and follows it with a shorter cut. You get to choose which lower blade you want between standard, high lift, and mulching. If you change your mind, no problem. EGO includes all three blades in the box. Along with 8.3 ft-lbs of torque, it's the battery-powered mower your lawn has been hoping for. For the homeowner that likes to keep their yard looking great, it's one of the best tool gifts you can give for Christmas.
If you're patient, it gets even better. EGO has a new flagship mower that adds Speed IQ technology and may be in stores in time for Christmas.